---
02.08.2018 13:37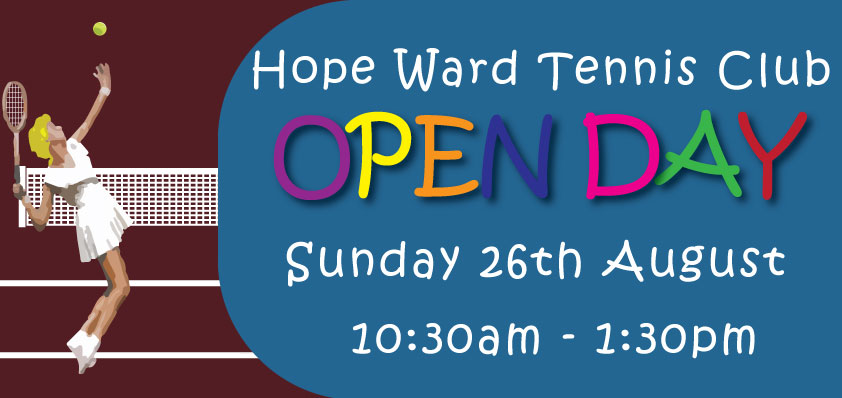 We are always looking for new players of all ages and standards, please visit our contact page for further details on how to get in touch with us!
Our Open Day will be held on Sunday 26th August 2018 from 10:30am until 1:30pm at Hope Ward, Tweed Street, Cumberland Park. Open Day is a great opportunity for anyone interested in playing to come out and meet some of our members, have a casual hit of tennis and ask any questions about the Club and/or the competition. If you are thinking of playing we would love to see you, and we can guarantee a warm and friendly reception. There will also be a free sausage sizzle from 12 noon.
---
02.08.2018 13:34
Below is a list of FAQs for the coming season:
What are the important dates for the upcoming 2018/19 season?
Season Start: 13 October 2018 (Juniors 19/20 October)
Last match before Christmas: 15 December 2018 (Juniors 14/15 December)
First match after Christmas: 2 February 2019 (Juniors 1/2 February)
Last minor round match: 2 March 2019 (Juniors 1/2 March)
No matches on the Adelaide Cup long weekend of 9-11 March 2019
Semi Finals: 16 March 2019 (Juniors 15/16 March)
Preliminary Finals: 23 March 2019 (Juniors 22/23 March)
Grand Finals & Presentation Night: 30 March 2019 (Juniors 29/30 March)
Are there any social events throughout the year?
Yes there certainly are! Hope Ward is pleased to announce the following dates:
Season Welcome Pizza Night: Saturday 27 October 2019 at 6.00pm at the clubrooms
Club tournament : Sundays 17 and 24 February and 3 March 2019
HWTC AGM: Sunday 3rd March 2019 at 12:00pm at the clubrooms
Presentation Function: Saturday 30th March 2019 at 6:00pm at the clubrooms
What are the subscriptions for the season?
Subscription Type
Rate
Seniors
$200*

Concession

(full time students, unemployed, juniors playing both seniors & juniors)

$165*

Juniors

(junior competition only, includes Friday club practice/coaching)

$130*

Families

($130 for first child, $110 for siblings)

$130/110*

Social

(not playing matches in competiion, only access to use courts)

$100
*If paid by 27th of October 2018, otherwise add $20 (per player for families) on top of the rates listed above.
What is included within my subs?

Your subscriptions include the following:
Entitlement to use the courts for practice throughout the year (subject to availability).
Junior subs also include a full season of supervised practice/coaching supervised by our Club Coach Heather 'Heepsy' Heeps.
All expenses paid access to Hope Ward's "Season Welcome Pizza Night" function.
Free entry into the Club Tournament where the winners will have their names added to the Hope Ward Honor Board!
The subs also cover the costs of court hire and balls for every match during the season, as well as the general overheads for the club such as court maintenance, electricity, telephone, water, cleaning etc.
---
17.04.2018 18:31
Dear Players & Parents
Sorry this is somewhat belated but thought I'd just send a brief wrap of how the season ended up, particularly for those who weren't able to attend the Presentation/Break-up on 24/3.
Congratulations to our Boys Divs. 4, 5 & 10 who played in the Grand Final...results below:-
Division 4 Boys 0-13 defeated by Denman 6-37
Division 5 Boys 2-22 defeated by McLaren Vale 4-33
Division 10 Boys 2-18 defeated by Coromandel Valley 4-26
Unfortunately we didn't come away with any premierships this season but players should be very proud of their achievements in just competing in the finals series, particularly the Grand Final...and it's good experience! Having had 9 of our 11 teams in semi finals, it demonstrates how difficult premierships are to come by!
Thank you to the parents and extended family who have supported the players throughout the season. I'd also like to extend my gratitude to our Team Supervisors...your assistance is much appreciated. Special thanks also to Wendy Deegan for the weekly score entry and recording for Match Centre (online system).
I'd also like to acknowledge and thank the Mercedes and BHTC players who played in combined sides with HWTC this season. Also, thanks and 'farewell' to Abbie, Lana, Nick and Rhys having now played their final summer season as HWTC juniors...all of whom have played for many years! We look forward to seeing you back on the court next season as HWTC seniors!
I'd also like to acknowledge the Mercedes and BHTC players who played in combined sides with HWTC.
Congratulations to our award winners for the season, and also to those who entered the HWTC Tournament (results as below). These prizes/trophies were presented on the 24/3:-
HWTC AWARDS
Junior Boys Singles Consistency - Sam Bulgin
Junior Girls Singles Consistency - Elena Siegert
Junior Boys Doubles Consistency - Heath Norris
Junior Girls Doubles Consistency - Sophie Singleton
'85' Club (winners of 85% or more singles matches for the season) - Elena Siegert, Oli Dyer, Jack Pettman, Sam Bulgin, Giulio Mucci, Cooper Young
HWTC TOURNAMENT
Girls Championship Singles - Winner: Abbie Deegan (Round Robin event)
Boys Championship Singles - Winner: Jack Pettman Runner Up: Oli Dyer
Boys Div. 6-10 Championship Singles - Winner: Matthew Kojevnikoff Runner Up: Tom Bulgin
Green Ball Championship Singles - Winner: Harrison Goodes Runner Up: Ben Shearwin
Girls Championship Doubles - not held
Boys Championship Doubles - Winners: Oli Dyer/Jack Pettman Runners Up: Johnny Rillo/Heath Norris
Boys Div. 6-10 Championship Doubles - Winners: Giulio Mucci/Cooper Ebert Runners Up: Malik Ziersch/Chris Shearwin
Green Ball Championship Doubles - Winners: Harrison Goodes/Ben Shearwin (Round Robin event)
We look forward to seeing more juniors enter the club tournament next season.
I hope players have enjoyed season 2017/18, particularly those playing for HWTC for the first time. I appreciate that the season was a little challenging for the Green Ball players, often facing more experienced opponents, however the improvement in our players was significant and I hope players were able to embrace and enjoy playing, without being too focused on the results.
For those not playing winter tennis, enjoy your winter sport or the break...and we look forward to seeing you in a few months for season 2018/19!!
Regards
Lyn Pettman
HWTC Junior Coordinator